A perfect day in Engelberg
Saturday 15th December-12
After a period of snowfall and cold, the Foehn came in last night and raised the
temperature above zero. The morning is clear and the scenery is beautiful. The
village has prepared for weeks for the season's first Ski Jumping World Cup,
taking place this morning. Johan, Chris, Moni and I are watching from the Eagles
Nest; up the hill, next to where they land. We are so close we can hear the wind
when they comes flying. Inside the cozy Swiss stübli soup, raclette, and this
delicious apfelkuchen is being served. It is followed by white wine and, of course,
Kafe Zwetschge. Friends and guests are mingling and having a good time.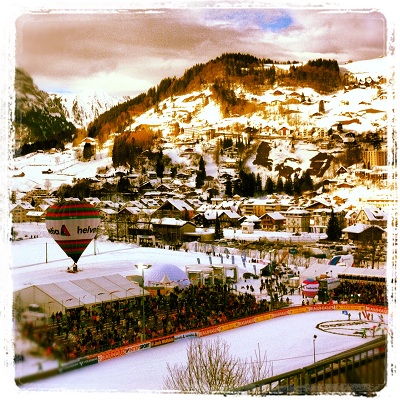 Unfortunately, Switzerland did not make it to the podium today; Austria takes home
both first and third place, whilst Poland comes second. The whole village is
partying by the time we are walking down.
It is now time for a beer at The Lodge with the skiers. We even have time for a quick
visit to NAJO & Friends on the main street before we meet up with Silvi in the
Spannort Lounge. The restaurant is full, so we enjoy an "apero" on first floor to warm
up before the evening's big event.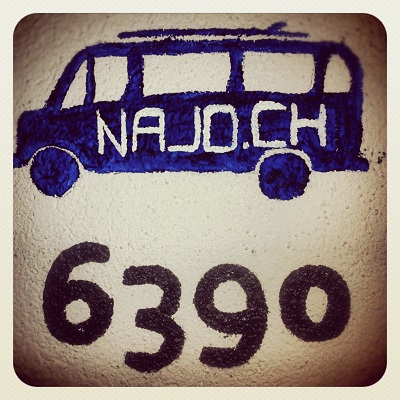 The European Outdoor Film Tour evening starts at 8pm and around 400 people have
gathered in Kurpark. The raclette and tea or Glüewine keeps you warm. There are
hand warmers and seating for everyone, and blankets for rent. You can't miss the
fact that Mammut is sponsoring this event; their banners are everywhere, and it
is stressed when they present the night on stage. They are travelling around 9
European countries and 180 villages in one year to show films about dedicated
adventurers from all over the world.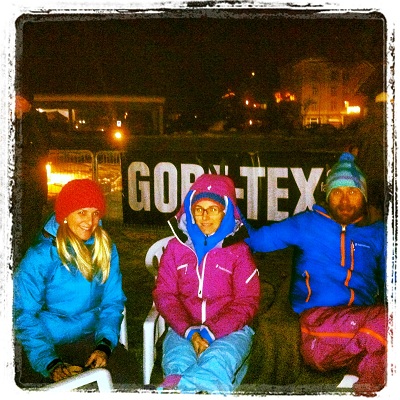 The show lasts for 2 hours with a short break. It includes everything from white
water adventures to wing suite divers, with singing Mont Blanc conquerors, bikers,
and a story about climbing the most beautiful and impossible peak, hanging on the
wall for 19 days etc. It is a breathtaking film about fantastic people and their
big life adventures. It was a really inspiring new experience, learn more.
What a day!
/Lian