Walk & Talk in Nepal
To finish off a beautiful hiking season our own guide Anneli "Lian" Green-Brzezinska
finally went on her dream trip to Nepal. With just a few guests and together with
guide and tour leader Pi-Charlotte they found the combination of Walk & Talk most
fascinating, with long days and hikes full of meetings with culture and mountain
people. Even though the altitude sometimes made it hard to both walk and talk….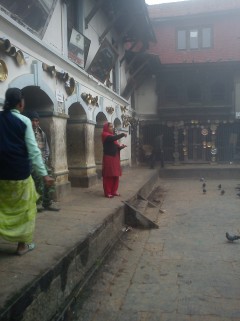 Early morning walks to nearest temple is a daily routin. Hinduism and Buddhism are put
together in a "practical cocktail" and you do talk to the gods and offer flowers and incents.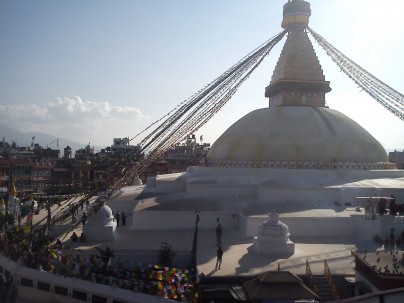 In the middle of the chaos there are oases of calm like the Bouddhanath Stupa
with "The all seeing eyes". Locals, tourists and monks walk around it together,
clockwise in calm and peace.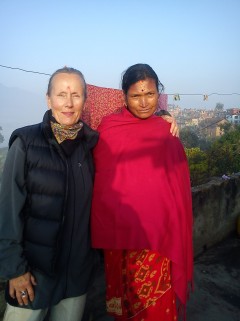 Married women are wearing red and they have golden earrings although that's all
they have. My college Pi-Charlotte and one of her friends on an early morning walk
in the sunrise.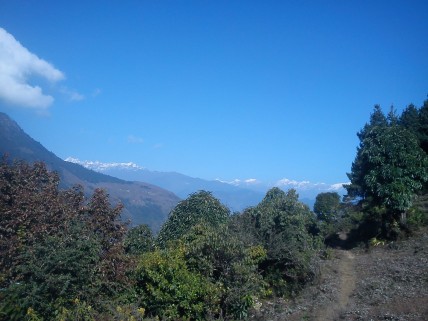 We are heading north in a Jeep for 5 hours, to the National Park of Lang Tang,
a 7000m. We see the Mother of mountains Mount Everest east of us.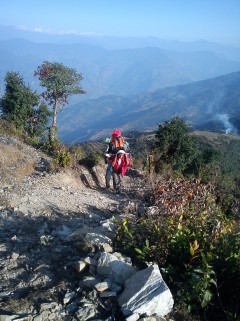 3 guides, 3 chefs and 6 sherpas where taking care of us for 6 days. Guiding,
serving, coocking , carrying all equipment and us too when it was steep.
Fantastic hard working and friendly people.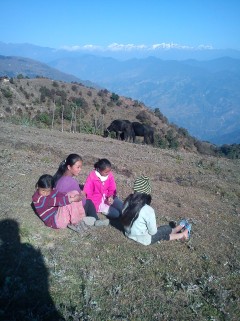 This kids lived at 2000m with a beautiful view. No Dahus around but some
mountain cows…
Last people we saw during 5 days on our little expedition.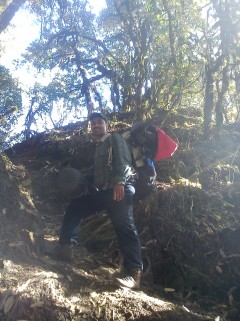 Sudip was our service minded, caring and professional head guide. One of the best
I have met. He and his colleges brought us safely from 1800m up to 4100m and
down again to 1600m.From rice fields and rainforests up to snowy mountains.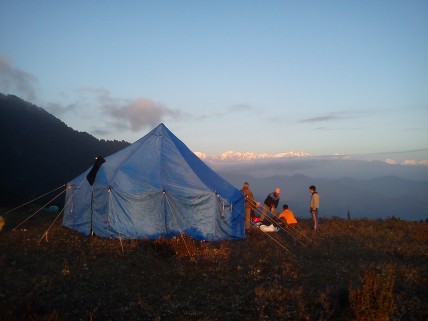 Dinner is prepared in the sunset with the Himalayan Mountains behind. A three
course meal is served in the blue tent every night. We can recommend the
Panch Pokhari, 5 lakes Trek , 4060m by all means. And there are hundreds of
others still to discover….
Thanks to our guideteam, Pi-Charlotte, Anna & Susanne from Lian