The Peak of Geneva Lake
All of a sudden you just find that perfect peak that you just need to
climb. Dent d'Oche is that sort of peak, with a unique view over the
entire Geneva Lake.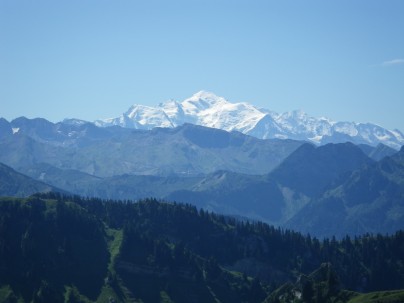 To say that the view is stunning is the understatement of the year.
This is what turns up just like that on our way up. The mighty Mont
Blanc behind the faboulous skiarea and mountainbike paradise of
Portes de Soleil.
Some of the creatures we met do have incredible advantage in this
terrain over us simple humans. These Chamois or mountains goats are
the champion climbers of the planet.
On the way up the mountain hut Refuge de la Dent d'Oche turns up just like that
This hut in all it's modesty has 56 beds.
And the food is good. This is momo, excellent and very tasty nepalese
dumplings.
And here is the explaination
The hosts are a mixed couple; she from Chamonix, Elise Cupelin Sherpa
and he from Nepal, Pasang Dawa Sherpa. They live up here all summer
bringing food and supplies almost everyday up the very steep and
sometimes very slippery route..Quite impressive.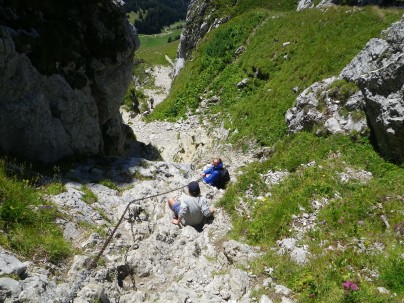 Some parts of of the route have chains for your comfort and safety…
To reach the peak you have to pass the hut and use another set of chains
The 360 degree view is impressive and by all means hard to describe.
Behind the cross you can see Evian and even Geneva.
Nyon is across the lake.
Montreux, Vevey and the glacier of les Diablerets.
In the distance you can see le Petit et Grand Combin reknown for
being the Heliski spot for the locals of Verbier. Just in front Les Dent
du Midi right above Champery.
The front page of local press says that this mountain makes all
people overly excited. I cannot but agree.
More peaks to the people